Sport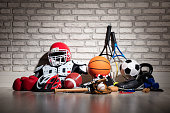 Why should you choose Sport ?
If you enjoy Sport then this course will allow you to study two sports in greater depth (individual and a team), and focus on leadership. It is a mixture of theory and practical and lessons are made as interactive as possible.
Career Options
There are numerous careers and jobs such as a Coach, PE teacher, Physiotherapist. A good grade will lead into completing A'levels and BTEC Level 3 courses and apprenticeships.
What else could you get out of Sport?
We take part in a number of activities and trips and regularly use Pulse fitness in Wednesbury. Opportunities to gain further awards in leadership and officiating are offered. There is also a chance students would be selected to be a PE leader.
How is the course assessed?
The course is assessed through 4 units each worth 25%. Unit 1 contemporary issues- written exam (x 1 hour =60 marks). Early entry in January. Unit 2 Sport studies skills (practical) in a team and individual sport (written log book) and an assignment about your best sport- strengths and weaknesses. Unit 3- Sports leadership students will lead within selected activities focusing on skills, qualities and responsibilities. Unit 4- Outdoor education this unit will focus on Canoeing and Mountain biking and will look at risk assessments.
Attitudes to Learning
Students should have a positive attitude and work ethic. The course requires effort and determination. They must enjoy PE both theory and practical. Attending extra curricular activities and representing the school team is an expectation. Students are assessed on their practical ability.